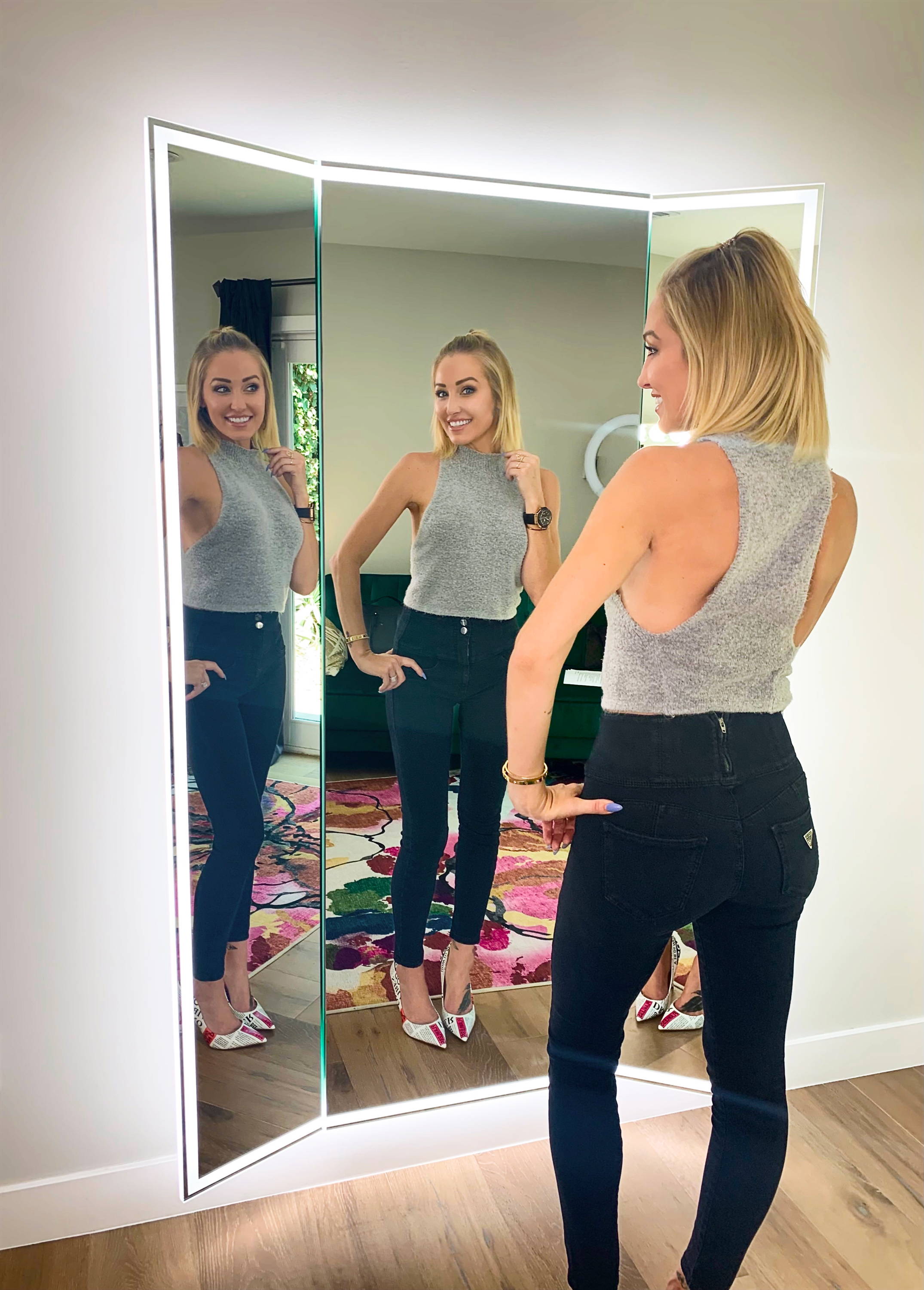 SELLING SUNSETS MARY FITZGERALD ROOM MAKEOVER & INTERVIEW

---
Make your house a home with one of Mary Fitzgerald's most cherished items.
Modern Mirrors had the pleasure to partner with Mary Fitzgerald to create the room of her dreams in her new Los Angeles home with the best-selling mirror, the Celestia Full-Length Trifold Vanity Mirror.
Mary Fitzgerald resides in Los Angeles, where she is furthering her real estate career at The Oppenheim Group in Hollywood. She is famously known for helping people find the home of their dreams and selling luxurious celebrity estate like French Montana's on the popular Netflix series "Selling Sunset".
Watch Mary's latest interview to find out how she uses the Celestia in her everyday routine, home styling, and hints of what's to come on Selling Sunset.
Q: WHAT DREW YOU TO THE CELESTIA LIGHTED FULL-LENGTH TRIFOLD VANITY MIRROR?
A: This mirror was perfect. I need to have good lighting whenever I'm doing collaborations, trying on clothes, and taking pictures. I can move the panels around to highlight whatever I'm trying to show.
THIS MIRROR WAS PERFECT!
Mary Fitzgerald
---
SPEED ROUND
We asked & Mary answered...
Selling Contemporary style homes or traditional style homes?
Traditional style homes
Minimalism or maximalism?
Minimalism
Hollywood style light bulbs or modern chic LED strip lights?
Hollywood style light bulbs
Night out dancing or night in Netflix?
Night in Netflix
Shoes or bags?
Shoes
Pizza or Sushi?
Pizza
Beverly Hills or Manhattan?
Beverly Hills
Zelda or Niko?
Both!
---
Modern Mirrors was thrilled for the opportunity to meet with Mary Fitzgerald to transform her room with one of our best-selling mirrors. For more details on the Celestia Lighted Full-Length Trifold Vanity Mirror and our full-length collection, visit modernmirrors.com.
To stay-up-to-date, join our newsletter to receive access to exclusive deals.
---