Meet the Designers: Design 4 Corners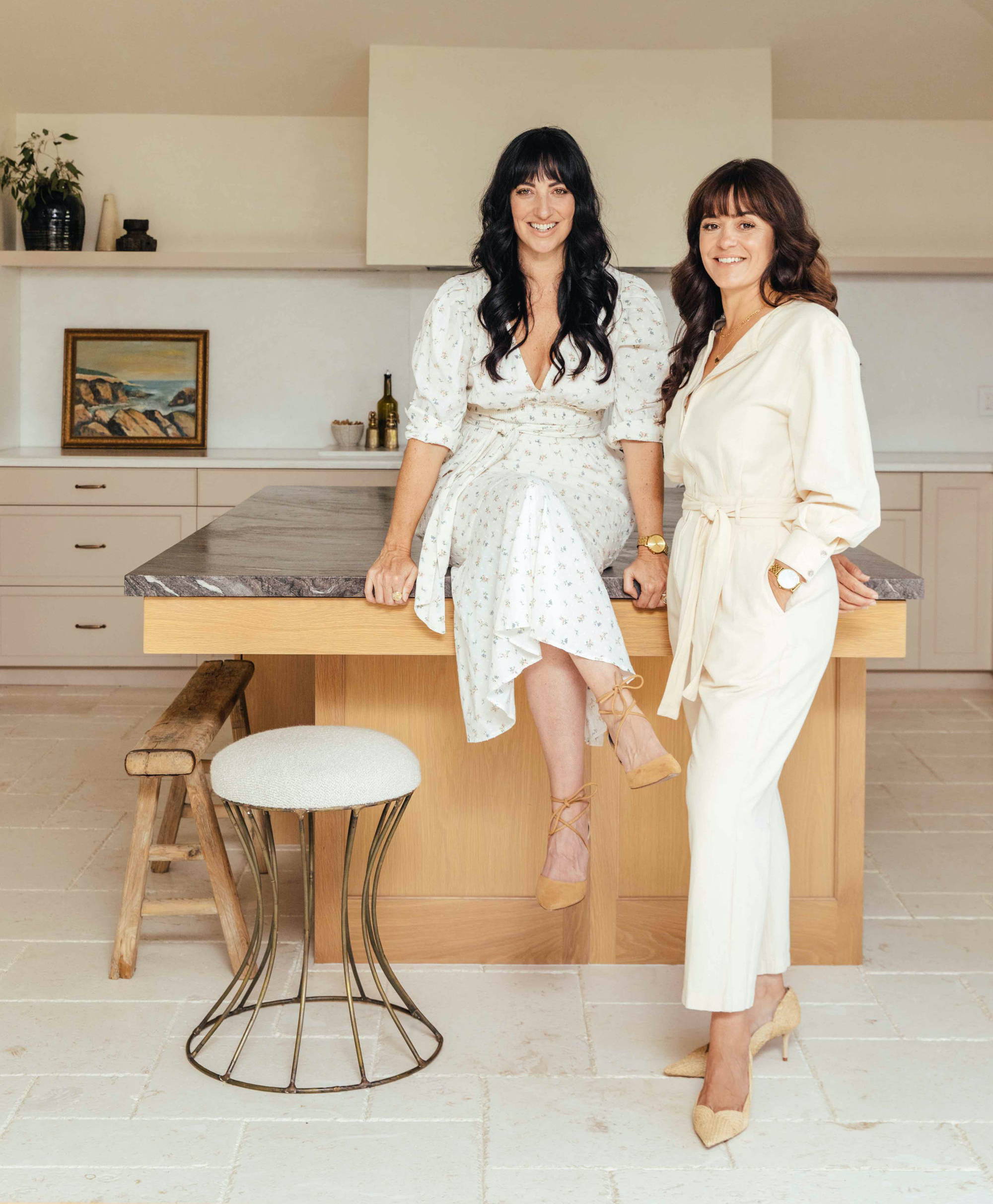 Q&A WITH SISTERS ELAINA MYERS AND SUSANNA WARD, OWNERS OF DESIGN 4 CORNERS
---
Learn from design duos and sisters with portfolios in Bali, California, and everywhere in between.
Elaina Myers and Susanna Ward, the interior designers and owners of Design 4 Corners, are known for their thoughtful and eclectic interiors that seamlessly blend spaces with delightful patterns, color, texture, and their experience spanning numerous cultures. Their gift for storytelling and their appreciation of various design styles have propelled Design 4 Corners to new heights.
We spoke with Elaina and Susanna about their projects, bathroom tips, and how they find inspiration. See what they had to say below, along with a peak at their projects.
---
Design 4 corners favorite ROUND MIRROR
---
Q: ELAINA AND SUSANNA, YOU'RE BOTH SISTERS AND DESIGN DUOS WHO HAVE WORKED ON A DIVERSE PORTFOLIO OF PROPERTIES. HOW DO YOU MANAGE TASKS BETWEEN THE TWO OF YOU?
A: We both tackle projects collectively. One of us will always be the project lead, but all hands on deck. This includes our amazing team of designers and managers.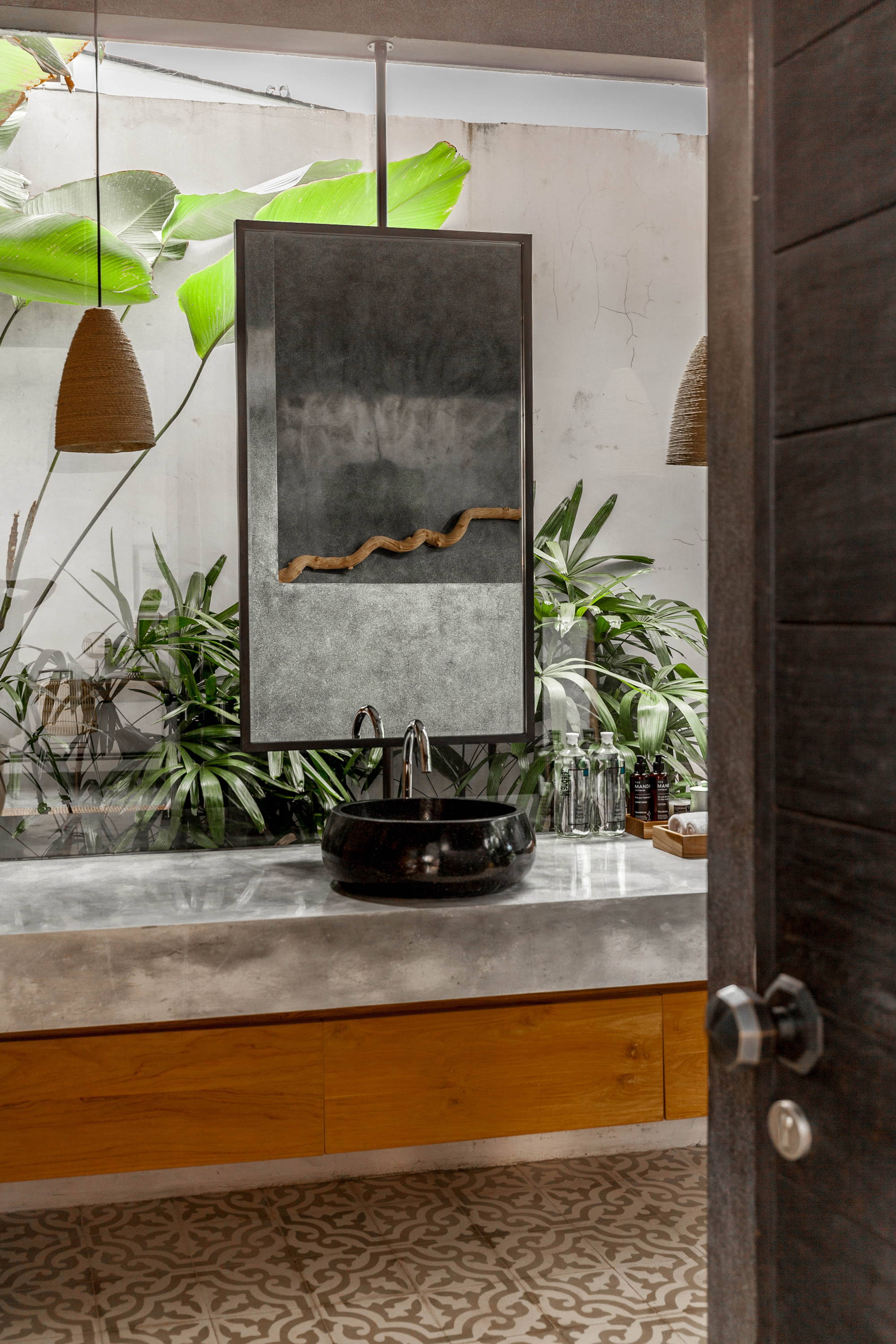 Q: YOU'VE WORKED ON A NUMBER OF PROJECTS THAT HAVE BEEN PUBLISHED, INCLUDING FEATURES IN HARPER'S BAZAAR, FORBES, AND ELLE DECOR, TO MENTION A FEW. WHAT ARE SOME PROJECTS THAT YOU ARE PARTICULARLY PROUD OF?
A: All of them! It's hard not to be proud of our work when it's completed. We are perhaps most proud of our Bali project, The Mandala House, which has been featured in a few publications. One of our more recent projects, Project Cleobella, which was a beautiful collaboration between the client and us, has given us some happy, proud moments as well.
---
Q: DESIGN 4 CORNERS IS ON A MISSION TO CREATE ONE-OF-A-KIND DESIGNS THAT REFLECT THE CLIENTS' PERSONALITY. HOW DO YOU GET TO KNOW A CLIENT'S LIFESTYLE AND NEEDS TO CREATE A HOME FOR THEM?
A: We always start with an extensive programming meeting. This is where we extract not only the needs and wish list, but we really try to wrap our heads around the lifestyle. This is the most important part when designing for others. It's easy to design a beautiful space, but how that space functions specifically for a client is the most important thing. As the projects develop, we learn even more. It's like any other relationship. You need to tend to it, care for it, get to know it, and allow for growth!
---
Q: DO YOU PLACE GREAT VALUE ON MIRROR PLACEMENT WHEN CREATING A LAYOUT FOR THE BATHROOM?
A: Ahhh! Yes! We hold a lot of value when it comes to mirror placement. Not just in the bathroom. Always be aware of what the mirror will reflect. Make sure it reflects or stares at something visually pleasing. We love it when a mirror reflects the outside. It's a great way to bring the outside in.
---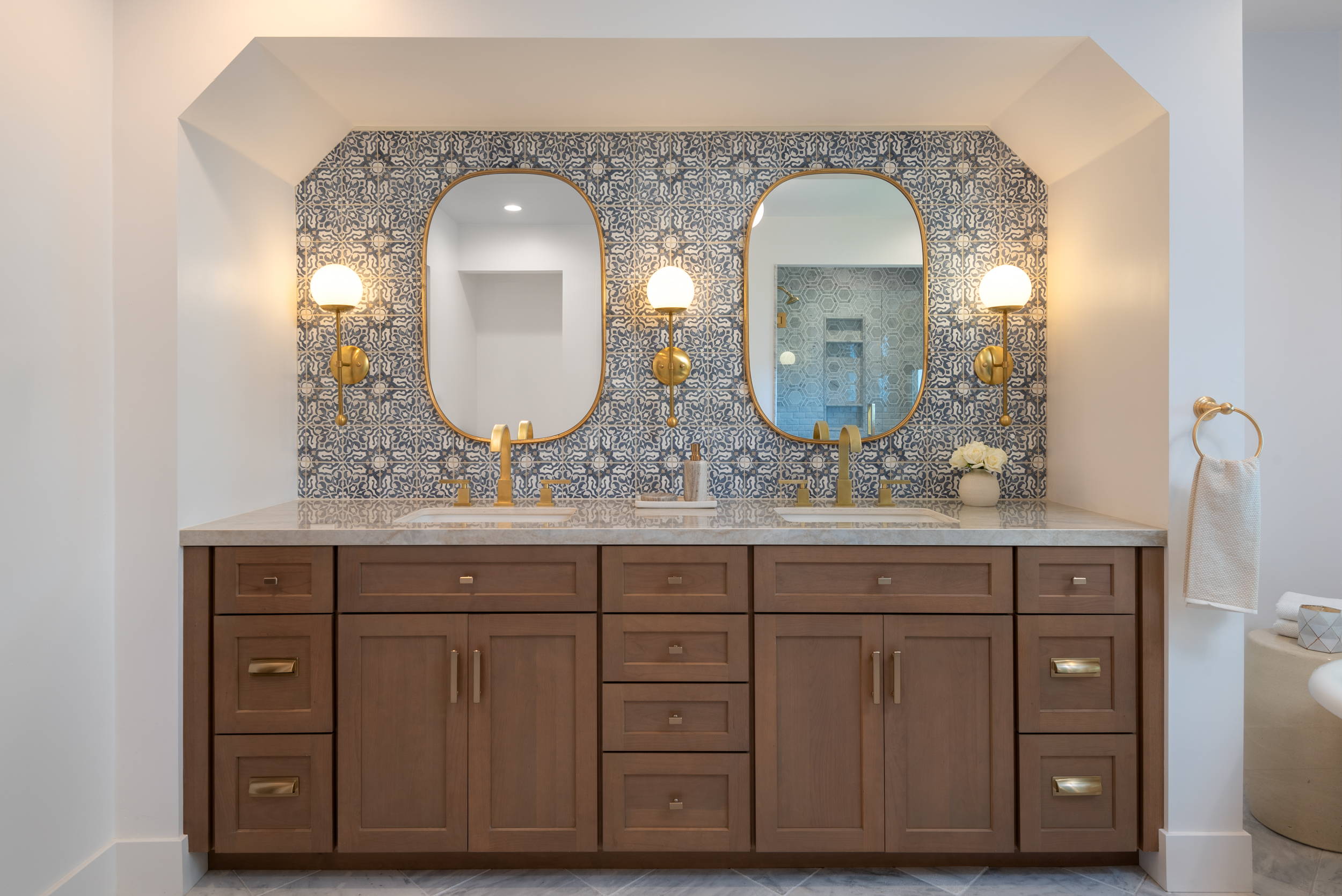 Q: FROM YOUR DESIGN EXPERTISE, WHAT DO YOU THINK ARE THE MOST IMPORTANT PIECES TO INVEST IN WHEN DECORATING A BATHROOM SPACE?
A: Mirror and Lighting! A well lit face is a good thing in a bathroom. A mirror to remind us that beauty is equally important!
---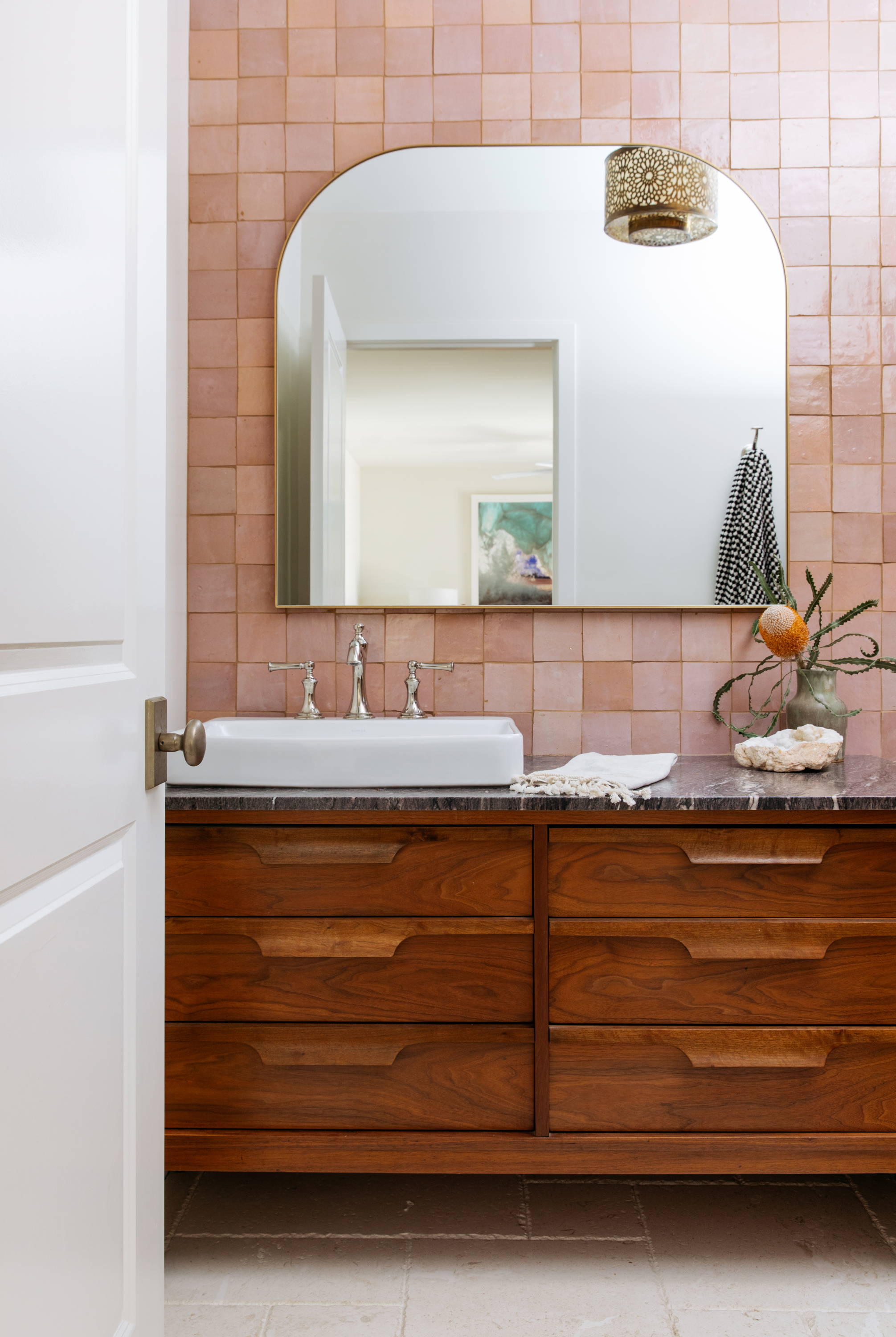 Q: HOW DO YOU DISCOVER NEW AND INSPIRING PIECES THAT CAN BE USED FOR CLIENT PROJECTS?
A: We are constantly online doing research, but there is something very special about picking up a good design magazine to find great new sources.
---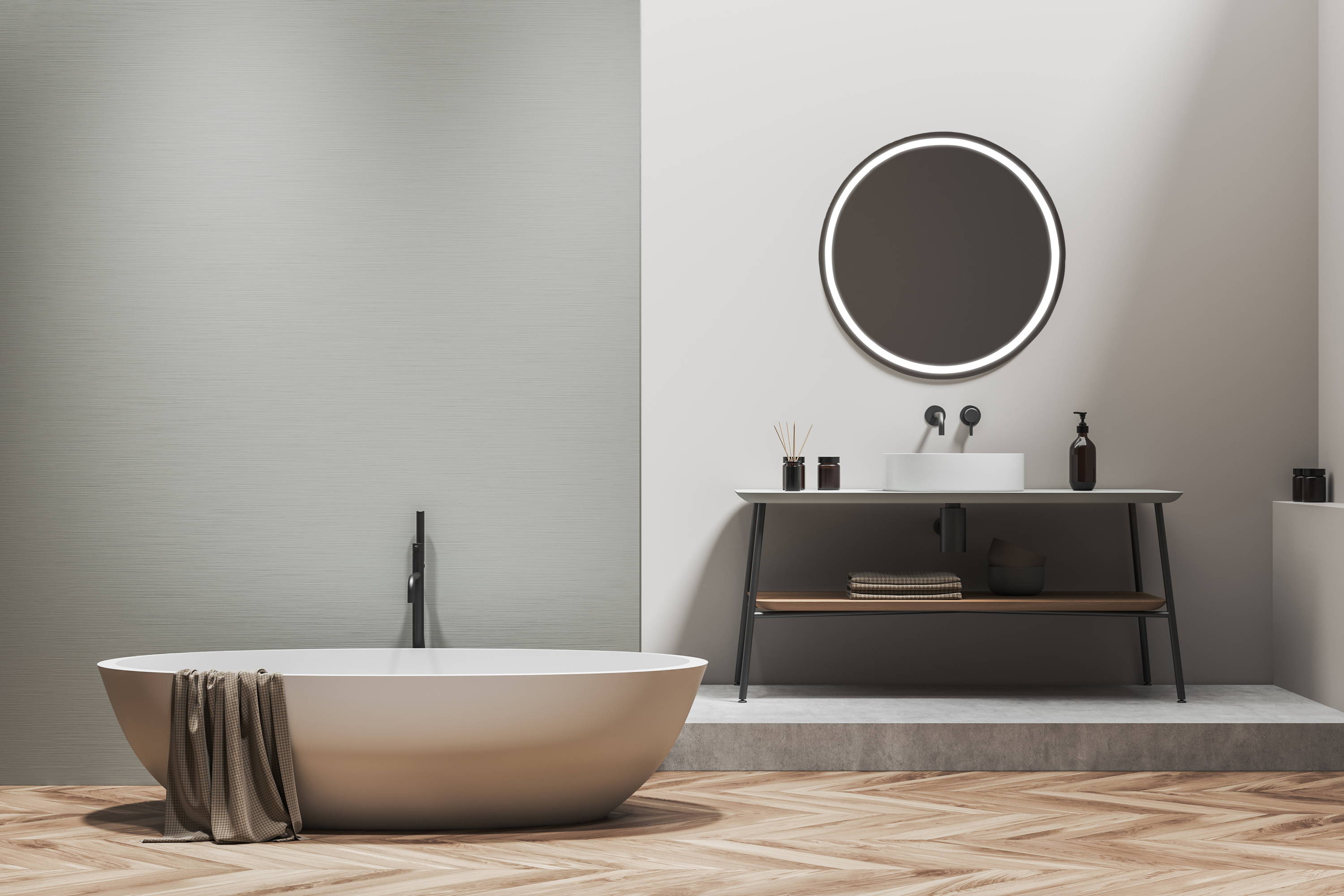 Q: IF YOU HAD TO CHOOSE ONE STYLE FROM OUR ROUND AND OVAL MIRROR COLLECTION, WHICH ONE WOULD YOU SELECT FOR YOUR SPACE AND WHY?
A: The Corona Round Lighted Bathroom Vanity Mirror. Round is always visually pleasing and practical. I love the size too! Statement pieces!
---
---