Meet The Designer: Nayeskie Rodriguez
Q&A WITH NAYESKIE RODRIGUEZ
---
Learn from Nayeskie with portfolios in New York, Miami, and everywhere in between.
New York City is known for being home to a diverse array of artists, designers, makers, and other talented creatives. Maybe it was because she was born in Brooklyn, New York- but interior designer Nayeskie Rodriguez has always had a unique approach for design. She has a bespoke approach to her projects of residential and commercial spaces- making her a multifaceted interior designer on the east coast. Her work consists of rental spaces, events, weddings, and even nightclubs.
We spoke with Nayeskie about her projects, bathroom tips, and how she finds inspiration. See what she had to say below, along with a peek at her projects.
---
Nayeskie's favorite ROUND MIRROR
---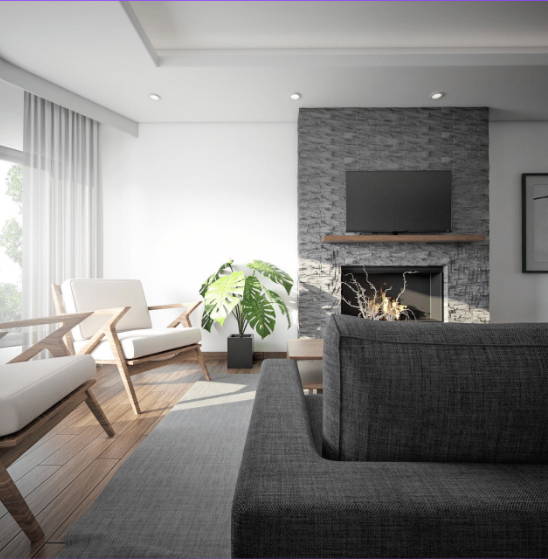 Q: ONE THING THAT STRUCK US WAS YOUR DIVERSE RANGE OF STYLES, FROM NIGHT CLUBS IN MIAMI TO EVERYDAY LIVING SPACES. HOW DO YOU PLAN AND DECORATE FOR CLIENTS WITH DIFFERENT NEEDS AND TASTES?
A: I've found it's best to think of a project as a partnership. Getting to know the client and who they are gives good direction to a design in terms of personal style. Because every client is different, it's important to focus on how their personal style can cater to their needs. Taking on their vision as if it were my own. I ask myself, "How would I want the space to look if I were them?"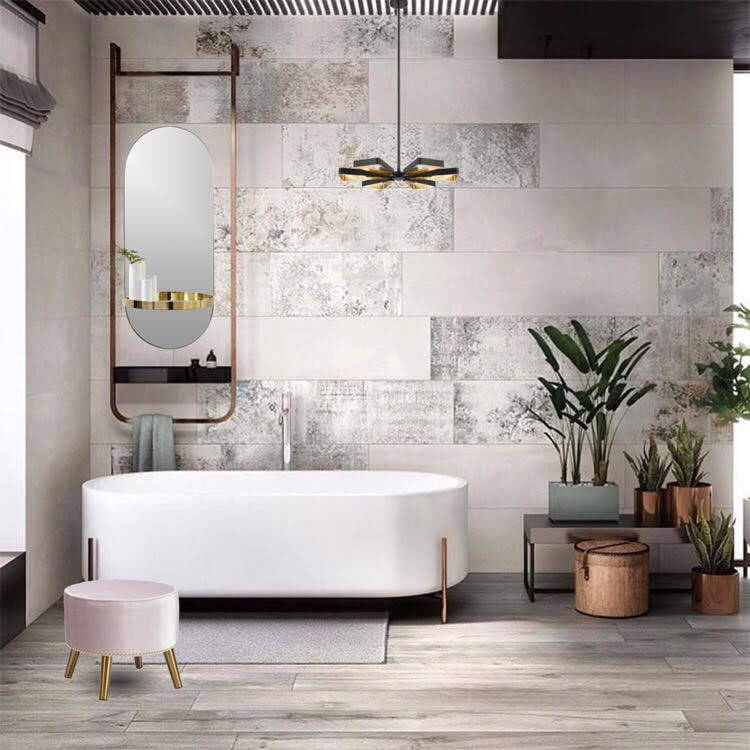 Q: WHAT ARE SOME KEY DECOR ELEMENTS THAT COULD ELEVATE A BATHROOM?
A: Modern hardware will always be an essential in elevating a bathroom, a good quality mirror and a fresh coat of paint. Quick and easy, but it makes a huge difference.
---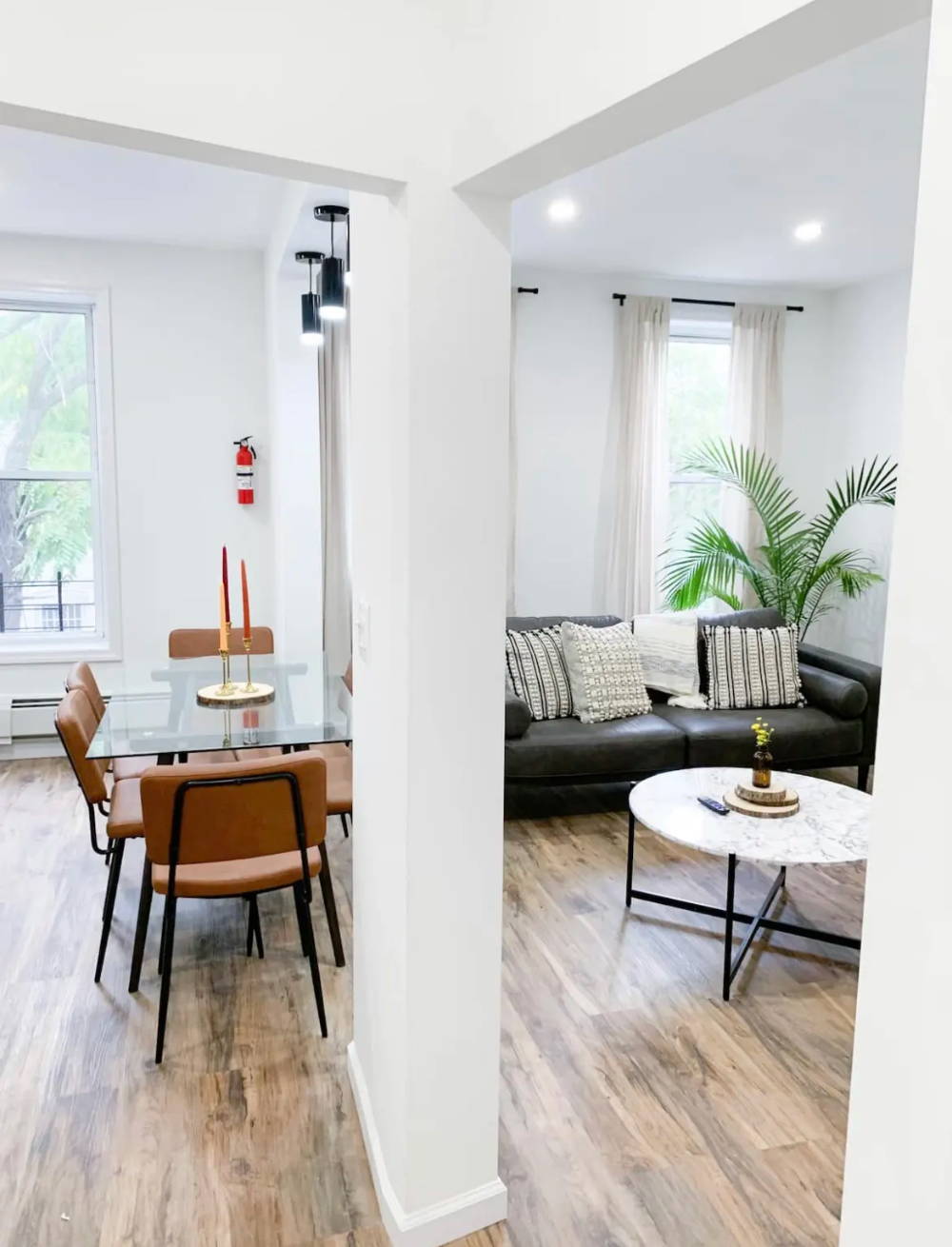 Q: WHAT KIND OF INFORMATION DO YOU GATHER FROM YOUR CLIENTS TO CREATE A RENTAL SPACE THAT WORKS FOR THEM?
A:  I ask my clients questions based on what they intend to use the space for. Is it a creative space for photoshoots? Or a living space? Or even both. Especially in New York- there's a handful of convertible creative lofts for aspiring artists to rent out from rental platforms. After collecting my client's purposes, I ask how they want to feel or how they want their guests to feel when they enter the space. Different colors and patterns, and styles evoke different emotions. Sometimes mixing two different styles is helpful. It's an essential tactic but also fun for both of us.
---
Q: WHAT ARE 3 THINGS THAT COULD BRING A PERSONALITY TO A ROOM?
A: Personal pictures, books they read daily, candles scents that remind them of a place they've been, or an element of statement. It could be an accent chair or throw pillows with their favorite color/print on it. Sentimental art work is one of my favorites to suggest. It's great for starting conversation.
---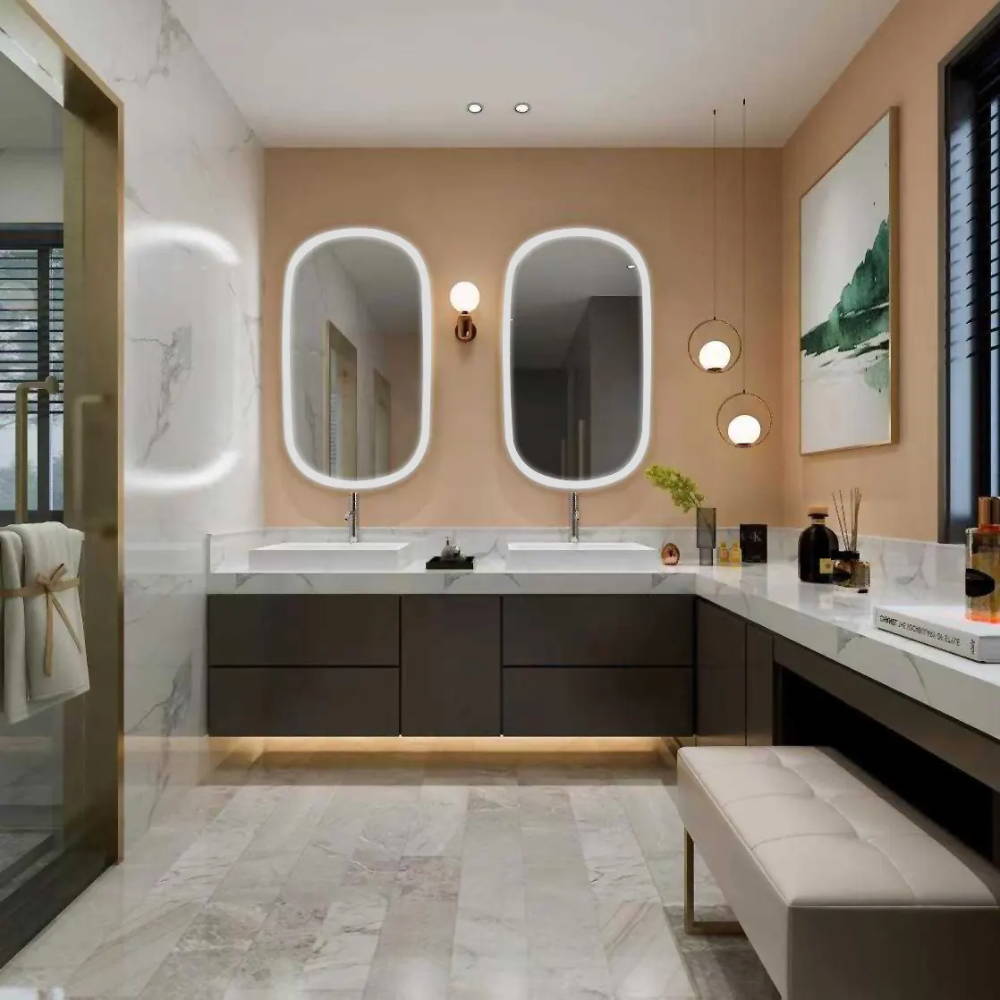 Q: IF YOU HAD TO CHOOSE ONE STYLE FROM OUR ROUND AND OVAL MIRROR COLLECTION, WHICH ON WOULD YOU SELECT FOR YOUR SPACE AND WHY?
A: I love the Meridian Pill Lighted Bathroom Vanity Mirror! It's very reminiscent of the Scandinavian style with its rounded edges. So beautiful.
---
---